WooCommerce Variation Swatches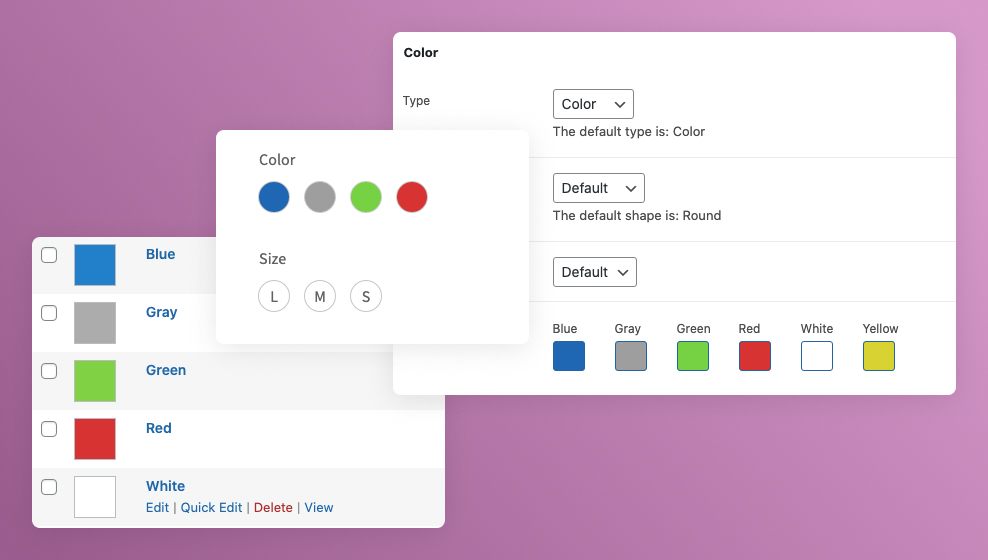 WCBoost – Variation Swatches plugin provides a much nicer way to display variations of variable products. This plugin will help you to set the style for each attribute as color, image, label, or button. With this plugin, you can present product colors, sizes, styles, and many things in a better way that is not supported by WooCommerce.
This plugin only adds more options to show product variations with swatches. It doesn't touch the default drop-down style of WooCommerce.
With a friendly and easy-to-use interface, you can add the default color, image, or label to each attribute on the attributes management page. It can also help you pick the right style for quick-add attributes right inside the editing product page.
Why store owners and developers choose this plugin
This plugin truly cares about your website. It is not only developed to add functionality to your store but also to care about the performance, SEO score, and your customers. This plugin is carefully developed by experienced developers.
It works with all themes. No more customization, it will work with your theme in the first run. With the API this plugin provides, theme developers are also able to make it more beautiful and suitable for the style of the theme.
It is very easy to use, even for beginners.
You own and control your data – forever. This plugin will never take any data from your store.
It will not mess up your admin dashboard with new menus and strange pages. It follows and uses the standards options of WooCommerce. You will find it is very easy to use.
No Ads, of course. This is a free plugin but it doesn't mean you have to accept Ads in your admin dashboard.
It is easy to customize. Even if you are not a developer, with some simple CSS or snippet, you are able to customize the product swatches.
It is lightweight. With a simple feature like this, you don't need to be concerned about how it impacts your website's speed.
Features provided with this plugin
Completely integrated with the WooCommerce plugin
Work on variable products only
Auto convert the default dropdowns to buttons
Enable Color swatches for product attributes
Enable Image swatches for product attributes
Enable Label/Text swatches for product attributes
Enable Button swatches for product attributes
Manage attribute swatches globally
Edit product swatches for every single product
Control the style of swatches, including shape, size, etc.
Enable tooltip for swatches
Provide inner API that allows themes/plugins to extend
Create new attribute swatches on the product editing page