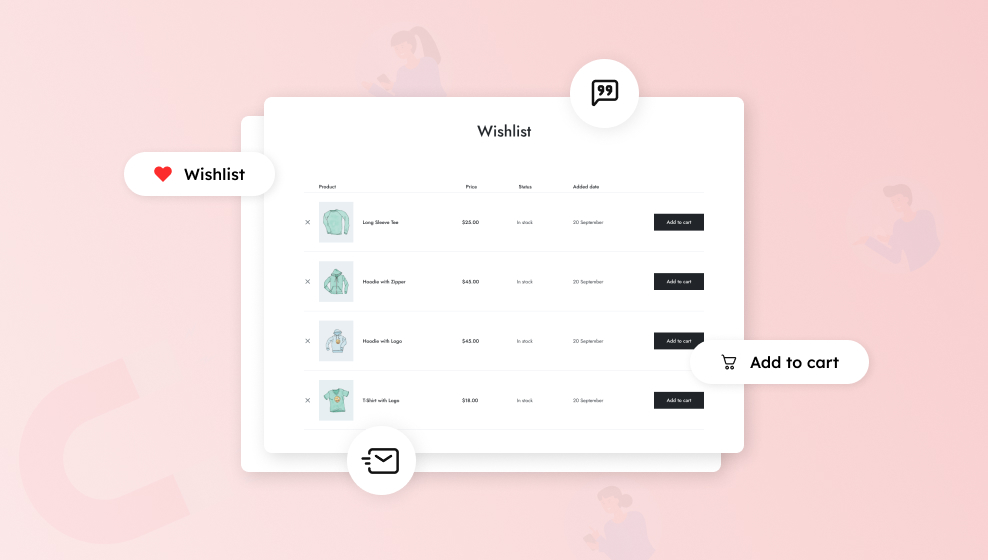 Wishlist is a key feature in e-commerce websites. These websites benefit from increased conversion rates, optimized revenues, and simplified consumer buying processes.
According to studies, the majority of website visitors don't typically buy anything on their first visit. They frequently become perplexed by several products. A nice (and pertinent) solution for them is a wishlist. Users are able to add their favorite products to a list. For a store with a lot of options, this will make it simpler for users to make the decision. They can also quickly locate their preferred products when making subsequent purchases.
Users can also utilize wishlists to recommend their favorite goods to family members and friends. This is beneficial for your website. This will encourage more orders from customers who share the same interests on your website. Or assume that you will receive more orders that are gifts from your customers to one another on special occasions (such as birthdays, Christmas, etc.).
For sellers, understanding client preferences and issues also makes it simpler for store owners to cater to customers, which helps to boost online revenue for sellers.
Based on the fundamental API of WooCommerce, this plugin was created, ensuring compatibility, performance, and security. Because the plugin has been tested with the most widely used themes and is guaranteed not to interfere with the user experience, we also recognize the value of integrating with themes.
Main features of the plugin
Enable users to add items to wishlists.
Can be restricted to only allowing users who are signed in to do so, while also encouraging visitors to register accounts so they can utilize the wishlist feature.
Give the list a name (for logged-in users)
Add a wishlist description (for logged-in users)
Wishlist privacy settings (Full privacy control)
Post wishlists on social media websites
Email friends to share a wishlist
Supports adding variations to the wishlist for all product styles
Customize the wishlist page and buttons in an easy-to-understand manner.